Artistic Excellence In Dance Education

Experience the Difference!
Welcome to our 2017/2018 season at the Milissa Augustine Academy. Striving for the best in Dance Education our faculty works closely together to ensure a comprehensive adult dance program. Whether you are enjoying the thrill of your first dance class, or pursuing a career in dance, our goals are to provide a supportive environment for you to grow and nurture your talent, individuality, and achieve your personal best. Additionally, the performance opportunities we offer contribute to a well-rounded life experience and a true sense of achievement.
ENROLLING NOW!
Enrollment is open and ongoing through the year. We also provide FREE trial classes.
---
Adult Dance Program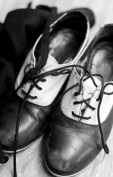 Our adult dance program offers individuals a broad spectrum of dance opportunities. Whether you are an adult new to dance, returning to dance, or looking to maintain your chosen craft, the Dance Academy offers classes geared for you. Our goal is to offer classes from beginning to advanced levels in Ballet, Pointe, Jazz, Tap, Hip hop, Lyrical, Contemporary, Modern, Irish Clogging, Ballroom, Acro Gymnastics, and Musical Theatre that are inspirational, fun, and challenging.
---
---
BEGINNER THROUGH ADVANCED COURSES

Ballet
Offered to adults in various levels. This class will focus on the classical elements of ballet, teaching students proper technique based on body alignment, proper placement and posture. Barre and center work are utilized to teach musicality, rhythm, flexability and coordination. Ballet provides a foundation for all other forms of dance as well as conditioning for sports and injury prevention. Ballet is the basis for all forms of dance and is encouraged for all dancers, as well as athletes wishing to gain better body control, core strength and alignment. Grace, poise and self-discipline are incorporated in this class as well.

Pointe
This class is offered to serious students enrolled in at least one ballet class per week and is considered strong enough to advance to the technique of pointe work.

Jazz
Offered to adults in various levels. A stylized technique based class that emphasizes long lines and musicality. As an ever changing art form, jazz encompasses many forms of technique from contemporary to musical theater. All classes focus on flexibility, strength, turns, hops, jumps, leaps and jazz choreography, while keeping emphasis on technique, center, and placement. Jazz technique developes strength and coordination thru technical warm-up, center isolations, floor and/or barre stretches, and dance combinations. Creative routines are taught by using exciting music and fresh moves as dance students learn how to interpret their music with control and fluidity.

Tap
Offered to adults in various levels. Classes incorporate the classic steps and footwork of tap dancing while adding a fresh approach to fun and upbeat choreography. Dance students learn to coordinate rhythm, agility, and musicality to execute clear tap sounds and the fluidity of movement and style.

Hip Hop
Offered to adults in various levels. Focus is on the latest street styles of hip hop, including break-dancing, pop, & funk. Dancers are encouraged to push themselves to explore new movements and to understand the elements of choreography, music, and performance. Classes include conditioning and warm-up, simplified break down of each dance step, skill combinations and choreography. All moves and music are age appropriate and level specific. Students love learning these upbeat dance steps while moving to their favorite songs in a high energy, social and fun environment.

Lyrical
Offered to adults in various levels. This class is designed to help students express their individual feelings and emotions. The slow and controlled movement of Lyrical encourages artistic expression and emotional content while building grace and fluidity of movement. Using music to translate emotion into movement, lyrical is very fluid and utilizes aspects of jazz, ballet and contemporary dance. Students are challenged to find meaning behind the music and connect that to the choreography. Students are taught to use smooth transitions between movements and incorporate breath into their dance. Classes include character development through discussion and examples in both dance and student experience. Lyrical is suggested for ages 8 and up, as it focuses on emotional strength and older emotional themes.

Contemporary
Offered to adults in various levels. Contemporary is interpretive, improvisational, and story-telling with abstract movement and choreography that balances lyricism, fluidity and athleticism. This class introduces an expressive form of dance that is unconventional utilizing techniques of fall and recovery, floorwork and levels of movement. Disciplines are a combination of ballet, jazz and modern techniques. In this class, students are taught to use the body as an instrument to express emotions.
Combination Classes
These classes introduce the dance student to a variety of art forms such as, ballet, tap, jazz, and hip hop.

Acro/Tumbling
This class is designed for individuals interested in learning and improving their tumbling skills. This class teaches flexibility, balance, strength, muscle control, discipline and concentration as well as spatial awareness. Each student will focus on floor exercise skills and individual progressions.

Musical Theatre
This choreography based class includes basic instruction in jazz and musical theater. Musical Theatre Dance focuses on all diverse Dance styles which are used on the Broadway Stage. This class prepares students for shows and teaches them about stage performance, encompassing acting and expression through music, movement and dance!

Voice & Drama
An introduction to musical theatre & drama, students experience the inner workings of dramatic & musical productions. Participation in vocal warm-up & exercises readies the individual for solo & group number performance. Acting skills are developed through exercises, improvisation, script & scene works, & practice auditions
---
Adults new to dance can start in the following ways

INTRO TO DANCE PROGRAM
Intro to Dance is an ideal way for the adult student who is new to movement to learn the basics of dance technique and terminology in a particular style of dance. Offered year-round, these classes give dance students the necessary skill sets to attend our other classes with a greater level of success and accomplishment.

BEGINNING LEVEL CLASSES
Ready to dance? Students are welcome to bypass the Intro to Dance classes and start right away with beginning level classes. Each week in beginning level classes, dancers build on their dance technique, strength, flexibility, stamina, terminology, body alignment, and coordination, while learning to sequence movement together in short combinations. Beginner classes may also be taken in addition to Intro to Dance classes. Beginning level classes are available in a diverse array of dance styles.



WORKSHOPS MASTER CLASSES
Workshops and master classes by faculty and guest artists are offered to supplement the regular schedule of classes. They
are in-depth studies of a particular dance style or concept. Workshop beginning and ending dates vary. Workshops help students improve specific skills and master classes give students a chance to study and learn with some of the industry's leading talents.
Milissa Augustine Dance & Fitness Academy

2510 Northway Road

Williamsport, PA. 17701

(570)323-5115

Like us on Facebook